Optimising weekends away: 3 days in Jordon for £250pp
March 7, 2021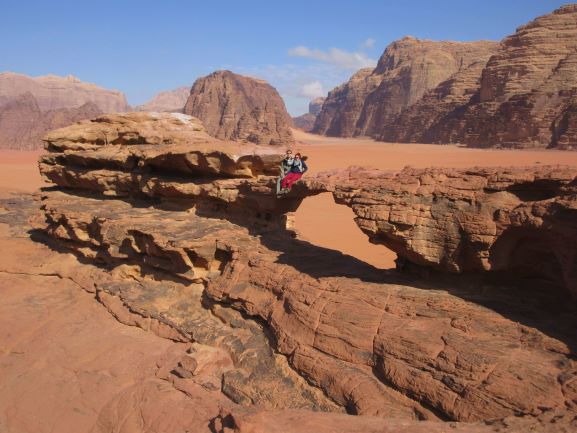 This is your Jordan travel taster menu: a long weekend that contains a little bit of everything. And it cost us a grand total of £250 per person including return flights from the UK. From snorkelling with sunken treasures to ancient wonders and breathtaking deserts, the country is compact and welcoming enough to try it all. Here's our guide on how to sample everything the Switzerland of the Middle East has to offer on the cheap.
Jordan Price Guide
UpRouted Total Costs
Two nights in an Airbnb (two people, private room & bathroom, shared terrace) in central Aqaba: £50
One night in Wadi Rum: Desert tent, campfire dinner, breakfast and shared facilities for two: £27
Entry to Petra (for one): £57
A feast of falafel and foul: £3-5 per person
Two-day car hire: £50
Taking money out of an ATM: bloody expensive (10 USD per withdrawal) do not do this! Go to currency exchangers instead.
Snorkelling half-day trip: £30 ish for two – read below for more information on this (you can probably do this yourself if you have more time)
Flights: LONDON – COLOGNE – AQABA – LONDON: £130 for two people
How to see Jordan on a Budget: Top tips
Visit Aqaba in the UK off-season
Beat the January blues with some winter sun – it's (pretty much) still swimming season and you can hang out on the beach catching a bit of colour for a fraction of the price.
Eat. Everything.
There is something in this cuisine for everyone. Consistently good, cheap food is plentiful and you can go nuts buying fistfuls of falafel for breakfast, lunch and dinner. You actually buy falafel by the fistful – 1 portion is basically how many falafel fit into the hand of your chef. In terms of recommendations Lonely Planet suggestion of Al Mohandes came up trumps for us plus the numerous sweet shops and bakeries – if you want to try and find your own hidden food gems in Jordan check out our tips here.
Be nice
We found Jordan to be an honest country where you could take people at their word. We met some great people who really helped us have the best time possible in the few short days that we had. Shout out to our Wadi Rum guide who let Alex get behind the wheel of his 4×4 and give desert driving a go.
Weekend in Jordan itinerary day one: Snorkelling in Aqaba
I did not think we'd be snorkelling in January. But for me the whole trip was a surprise so what do I know.
We had our eye on two dive sites: The Japanese garden, which is a little down the coast from Aqaba, and the site of a sunken tank and plane, closer to the Saudi Arabian border. We arranged for a local free-diver to show us the sites and to lend us some gear through our AirBnB. He claimed that day was too cold for getting in the water so our friend directed us from the safety of the shore.
I'm not going to lie. It was a bit chilly. The sea itself was pretty Mediterranean-like, not UK-sea-in-the-summer chilly. But the air temperature was certainly not middle eastern toasty. It was completely worth it though. The snorkelling rivalled what we had seen in the coral triangle. The colours may not have been as vivid but the abundance and diversity of marine life more than made up for it. We really had to psych ourselves up for heading back into the sea at the second site. We huddled over a sugary tea on the beach, watching a group of scuba divers from the north of England in full-on wet suits complain about the temperature. Again, our efforts were massively rewarded – it was a spectacular site and we saw so much. The feeling of seeing a plane underwater was quite surreal, part vertigo part awe. Our brains couldn't really make sense of what we were seeing. I'm sure there's also some spectacular SCUBA diving to be had in these areas but that's beyond our skill set at the moment. As Alex is demonstrating below, you can get preeetty close to the wreckage and some great fish without being a diver:
Day two: From the wonders of Petra to bedding down Bedouin style
We weren't sure if we were going to get to Petra today because – and this feels ridiculous to write – it had snowed. We were so sorry to hear that a mother and daughter had failed to make their bucket-list trip just the day before because of the absurd weather. We left Aqaba at about 4am to get to Petra for opening time and beat the coaches coming from Amman. Sure enough, snow was piled up on the side of the road as we climbed round the mountains but it didn't stop us from winding our way inland.
Getting to Petra for dawn meant we could have it to ourselves for a bit, with only the camel herders for company, gearing up to offer tourists rides around the vast expanse that is this world wonder. The walk to the Treasury is the perfect build up to spark your curiosity and make you feel like you're about to make an archaeological discovery. Turning the blind corners of the impressive caverns of the Siq, you're wondering when it will magically appear.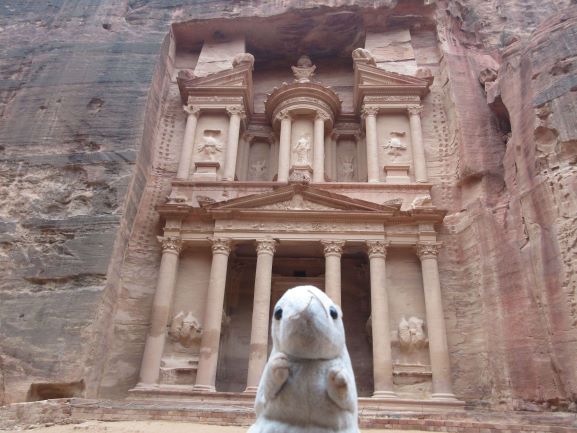 And the Indiana Jones exploration doesn't stop there. You can easily spend a day getting lost in kings' tombs and monasteries. If you're really into archaeology and walking you might want to consider the two day pass so you can enjoy all the delights Petra has to offer.
We drove straight from Petra to Wadi Rum, arriving an hour or so before sunset. We parked up in a town on the outskirts of the desert to be picked up by our AirBnB host. Yes, Bedouin camps are available on AirBnB – but obviously don't expect instant replies. There are a fair few camps within 10 miles of the Wadi Rum boundary, varying in price and state of luxury. Ours had everything we could possibly want and was completely secluded from other camps. We watched the sunset (top tip: shower before it gets dark to avoid mixing cold waters in shared bathrooms and extreme drops in temperature) and spent the evening toasting pittas round an open fire and playing cards with our fellow campers. Before turning in, we braved the desert night to go for a walk and soak up the silence and the star-spangled skies.
Day three: Exploring Wadi Rum
The next day, we did a half-day tour of the desert around our Airbnb. We hiked up sand dunes and learned about several sights of historical significance. Between each stop we'd have a tea with the local guides. Wadi Rum is a big place, but when it comes to people there's definitely a small town feel where everyone knows everyone. We couldn't hang around because we had an evening flight to catch but you could really get lost in the desert if you wanted a true Lawrence of Arabia experience. On our return to Aqaba we got a sense of what peak season would be like, with more European tourists roasting on the city's beaches. We took in our last bit of sun and our final falafels and fuul, before picking up some baklava for the road.
This was a whirlwind tour but one that made us feel like we did Jordan justice. The flight home concluded with a diversion from Gatwick to Liverpool after two aborted landings due to weather. A 5 hour coach back south followed back and I rolled into the office just on time, still smelling like a Bedouin camp fire. That said, after a 18 months of COVID, what we wouldn't give for that for that kind of excitement right now.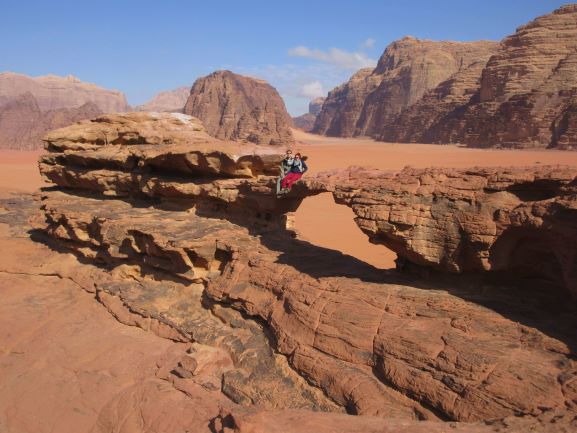 How did we end up in Jordan?
Jordan was actually a surprise trip that Alex organised for me as a surprise – I wasn't even sure where exactly we were going when I saw AQABA flash up on the boarding display! I was given cryptic packing instructions the day before: long sleeves and many jackets but also swimmers and sunglasses. The puzzle I cracked was that I would be going to a Muslim desert country less than 6 hours flight time from the U.K- that left North Africa and the middle East up for grabs and couldn't wait to find out what Alex was up to. When I got off the coach at Luton Aiport, however, I thought Alex has pulled off the unltimate double bluff. The board was full of fun European city break destinations but none matching the packing brief I'd been assigned.
It took a pint in the departure lounge's Weatherspoons to work out our flight that evening would not be taking us to our final destination. We actually ended up in Cologne first, where we has a beautiful full German breakfast and an amble before going back to the airport. Alex carefully navigated me round the airport, refusing to let me look at any boards. Even at the gate, I had to explain to the bemused border force that I had no idea where I was going o the other side. Even once I found the right gate ('Aqaba' had to fit the profile I made in my head), I still couldn't be sure. I had always assumed Jordan was a travel destination you needed much deeper pockets than ours to visit. When I got my ticket with the country code on I knew – by this time I was basically walking to the plane! An amazing start to an incredible mini-adventure. Alex's flight finding finesse was responsible for this one. Read about how he does it here!
Happy Indiana Jones-ing!